In keeping pace with the budgetary demands of health care today, we focus on providing your staff with the tools they need, the brands they trust, and the quality they demand for the absolute lowest cost possible.
American Health Care Services, Inc. offers competitive pricing through outstanding purchasing power and by honoring group purchasing contracts. While others focus solely on pricing. American Health Care Services, Inc. recognizes that not only our pricing, but also our SERVICES & SUPPORT will retain you as long term customers.
Our competitors cannot offer the personalized services and support that we have been providing for our mursing communities and home care customers throughout the Delaware Valley for over 20 years.
Vital

1.2 Cans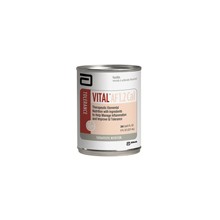 Vital AF 1.2 Cal™  
HCPCS Code:  B4153
Sold by:
Qty per case:
Therapeutic Elemental Nutrition to Help Manage Inflammation and Symptoms of GI Intolerance
VITAL AF 1.2 CAL is Advanced Formula therapeutic elemental nutrition with ingredients to help manage inflammation and symptoms of GI intolerance.
For tube or oral feeding.
For supplemental or sole-source nutrition.
Use under medical supervision.
Features

Designed to promote tolerance:

Hydrolyzed peptide-based protein system.
MCT/fish oil structured lipid, a well-tolerated

1,2

and absorbed

1

next generation fat to promote absorption of fatty acids.
1.2 g of NutraFlora® scFOS®

*

/8 fl oz (5.1 g/L). scFOS are prebiotic fibers that stimulate the growth of beneficial bacteria in the colon.

EPA (2.7 g/L) and DHA (1.1 g/L) from fish oil (10.8 g/L) to help modulate inflammation and support immune function.

3,4

75 g/L protein to meet the increased protein needs of stressed patients (

>

1.2 g/kg) and support healing.

5

1013 IU/L vitamin D to help meet the increased vitamin D needs of critically ill patients.

6,7

Elevated antioxidants vitamins C and E to help reduce free radical damage.
Meets or exceeds 100% of the RDI for protein and 24 essential vitamins and minerals in 1422 Cal (1185 mL).
Gluten-free.
Suitable for lactose intolerance.
Low-residue.
Feeding sets are for single-patient use only. Use clean technique to avoid set and/or product contamination.
Precautions
Not for IV use.
Not for people with galactosemia.
* NutraFlora® and scFOS® are not registered trademarks of Abbott Laboratories.
1 Kenler AS, et al. Ann Surg 1996;223:316-333.
2 McKenna MC, et al. J Pediatr Gastroenterol Nutr. 1985;4:45-51.
3 Calder PC. Prostaglandins Leukot Essent Fatty Acids. 2008;79:101-108.
4 Calder PC. Clin Nutr. 2010;29:5-12.
5 McClave SA, et al. JPEN J Parenter Enteral Nutr 2009;33(3):277-316.
6 Lee P, et al. Intensive Care Med 2009;35 (12):2028-2032.
7 Lee P, et al N Engl J Med 2009;360(18):1912-1914.
Instructions for Use: 8-fl-oz-can
Store unopened at room temperature; avoid extreme temperatures.
Shake well. Vital AF 1.2 Cal is ready to use.
Clean top of container thoroughly before opening.
Once opened, cover, refrigerate and use within 48 hours.
Oral Feeding:
May by used for total or supplemental nutrition.
May be fed at room temperature or chilled.
Tube Feeding:
Follow physician's instructions.
Adjust flow rate and volume according to patient's condition and tolerance.
Feed by pump at room temperature with an 8 Fr or larger tube; gravity feeding not recommended.
Additional fluid requirements should be met by giving water between or after feedings or when flushing the tube.
Avoid contamination during preparation and use.
Nutrition
Serving Size: 8 fl oz(237 mL)


Amount Per Serving
% DV
% RDI

*

Characteristics

    Nutrient Density, Cal/mL:1.2
 
 
    Calories per fl oz:35.6
 
 
    Protein, % Cal:25
 
 
    Carbohydrate, % Cal:36
 
 
    Fat, % Cal:39
 
 
    MCT:LCT:45:55
 
 
    Cal to Meet 100% RDIs:1422
 
 
    mL to Meet 100% RDIs:1185
 
 
    Total Cal:g Nitrogen:100:1
 
 
    Nonprotein Cal:g Nitrogen:75:1
 
 
    Osmolality, mOsm/kg H2O:425
 
 
    Renal Solute Load, mOsm/kg water:560
 
 
    Viscosity:Nectar-like (room temperature & chilled)
 
 
    Minimum Tube Size for Gravity/Pump Feeding (Fr):not recommended/8
 
 

Nutrient Data

Protein, g:17.8
 
 
Fat, g:12.8
 
 
Carbohydrate, g:26.2
 
 
    Dietary Fiber, g: 1.2†
 
 
Taurine, mg:30
 
 
L-Carnitine, mg:30
 
 
Water, g:192
 
 
Calories:284
 
 

Vitamins

Vitamin A, IU:1300
 
25 
Vitamin D, IU:240
 
60 
Vitamin E, IU:60
 
200 
Vitamin K, mcg:16
 
20 
Vitamin C, mg:100
 
170 
Folic Acid, mcg:160
 
40 
Vitamin B1, mg:0.6
 
40 
Vitamin B2, mg:0.68
 
40 
Vitamin B6, mg:1.2
 
60 
Vitamin B12, mcg:2.4
 
40 
Niacin, mg:8.0
 
40 
Choline, mg:135
 
Not established 
Biotin, mcg:120
 
40 
Pantothenic Acid, mg:4.0
 
40 

Minerals

Sodium, mg:300
 
Not established 
Potassium, mg:400
 
Not established 
Chloride, mg:300
 
8 
Calcium, mg:200
 
20 
Phosphorus, mg:200
 
20 
Magnesium, mg:80
 
20 
Iodine, mcg:30
 
20 
Manganese, mg:1.0
 
50 
Copper, mg:0.40
 
20 
Zinc, mg:6.0
 
40 
Iron, mg:3.6
 
20 
Selenium, mcg:16
 
25 
Chromium, mcg:24
 
20 
Molybdenum, mcg:36
 
50 

*

RDI percentages for adults and children 4 or more years of age.

†

1.2 g of dietary fiber supplied by short-chain fructooligosaccharides.
Ingredients
Water, Corn Maltodextrin, Whey Protein Hydrolysate, Hydrolyzed Sodium Caseinate. Less than 2% of the Following: Structured Lipid (Interesterified Marine Oil [Contains One or More of the Following: Anchovy, Menhaden, Salmon, Sardine, Tuna], Medium-Chain Triglycerides), Medium-Chain Triglycerides, Canola Oil, Soy Oil, Short-Chain Fructooligosaccharides, Natural & Artificial Flavors, Cellulose Gel, DATEM, Magnesium Phosphate, Calcium Carbonate, Potassium Chloride, Sodium Phosphate, Potassium Citrate, Ascorbic Acid, Choline Chloride, Acesulfame Potassium, Carrageenan, Cellulose Gum, Calcium Phosphate, Sucralose, d-Alpha-Tocopheryl Acetate, L-Carnitine, Taurine, Magnesium Chloride, Zinc Sulfate, Ferrous Sulfate, Niacinamide, Calcium Pantothenate, Manganese Sulfate, Cupric Sulfate, Thiamine Chloride Hydrochloride, Pyridoxine Hydrochloride, Riboflavin, Vitamin A Palmitate, Folic Acid, Biotin, Chromium Chloride, Sodium Molybdate, Potassium Iodide, Sodium Selenate, Cyanocobalamin, Phylloquinone, and Vitamin D3.
Contains milk ingredients.