In keeping pace with the budgetary demands of health care today, we focus on providing your staff with the tools they need, the brands they trust, and the quality they demand for the absolute lowest cost possible.
American Health Care Services, Inc. offers competitive pricing through outstanding purchasing power and by honoring group purchasing contracts. While others focus solely on pricing. American Health Care Services, Inc. recognizes that not only our pricing, but also our SERVICES & SUPPORT will retain you as long term customers.
Our competitors cannot offer the personalized services and support that we have been providing for our mursing communities and home care customers throughout the Delaware Valley for over 20 years.
Skin-Prep®

Protective Barrier Wipes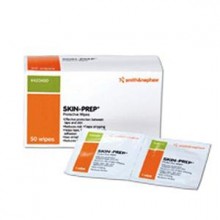 Skin-Prep® Protective Barrier Wipes
Sold by: Box (50 each)
Qty per CASE: 20 Boxes/50 each 

HCPCS Coder: A5120    
Skin-Prep® is a liquid film-forming dressing that, upon application to intact skin, forms a protective film to help reduce friction during removal of tapes and films. Skin-Prep® can also be used to prepare skin attachment sites for drainage tubes, external catheters, surrounding ostomy sites and adhesive dressings.
Helps tape and film adhesion.
Fast and easy to use, only one coat is required, so less product is used per application.
Removes easily using skin cleanser or soap and water, so unsanitary residue isn't left in or around the wound area.
Allows skin to "breathe" so tapes and films adhere better.
Pediatrician tested.