In keeping pace with the budgetary demands of health care today, we focus on providing your staff with the tools they need, the brands they trust, and the quality they demand for the absolute lowest cost possible.
American Health Care Services, Inc. offers competitive pricing through outstanding purchasing power and by honoring group purchasing contracts. While others focus solely on pricing. American Health Care Services, Inc. recognizes that not only our pricing, but also our SERVICES & SUPPORT will retain you as long term customers.
Our competitors cannot offer the personalized services and support that we have been providing for our mursing communities and home care customers throughout the Delaware Valley for over 20 years.
Ensure

Chocolate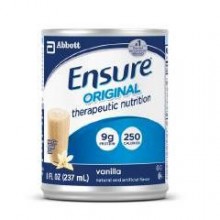 Ensure® Original Therapeutic Nutrition, Chocolate
HCPCS Code:  B4150
Sold by:
Qty per case:
Complete, Balanced Nutrition®
Ensure Original Therapeutic Nutrition can benefit patients who have malnutrition, are at nutritional risk, or are experiencing involuntary weight loss.
For oral use only.
For interim sole-source nutrition.
Use under medical supervision.
Features

Good source of protein (9 g/serving).
Excellent source of 24 essential vitamins and minerals.
Excellent source (320 mg/serving) of plant-based omega-3 fatty acid ALA (20% of 1.6 g DV) to support heart health.
Halal.
Kosher.
Gluten-free.
Suitable for lactose intolerance.
Precautions
Not for IV use.
Not for people with galactosemia.
Preparation

Nutrition
Serving Size: 8 fl oz(237 mL)


Amount Per Serving
% DV

*

% RDI

Characteristics

    Fat, % Cal:22
 
 
    Carbohydrate, % Cal:64
 
 
    Protein, % Cal:14
 
 
    Osmolality, mOsm/kg H2O:640
 
 

Nutrient Data

Calories:250
 
 
Calories from Fat:50
 
 
Fat, g:6
9 
 
    Saturated Fat, g:1
5 
 
    Trans Fat, g:0
 
 
    Polyunsaturated Fat, g:3
 
 
    Monounsaturated Fat, g:2
 
 
    Cholesterol, mg:<5
<2 
 
Sodium, mg:190
8 
 
Potassium, mg:390
11 
 
Carbohydrate, g:42
14 
 
    Dietary Fiber, g:3
12 
 
    Sugars, g:22
 
 
Protein, g:9
18 
 

Vitamins

Vitamin A:
25 
 
Vitamin C:
50 
 
Vitamin D:
40 
 
Vitamin E:
25 
 
Vitamin K:
25 
 
Thiamin:
25 
 
Riboflavin:
25 
 
Niacin:
25 
 
Vitamin B6:
25 
 
Folate:
25 
 
Vitamin B12:
25 
 
Biotin:
25 
 
Pantothenic Acid:
25 
 
Choline:
15 
 

Minerals

Calcium:
30 
 
Iron:
25 
 
Phosphorus:
25 
 
Iodine:
25 
 
Magnesium:
25 
 
Zinc:
25 
 
Selenium:
25 
 
Copper:
25 
 
Manganese:
60 
 
Chromium:
25 
 
Molybdenum:
50 
 
Chloride:
8 
 

*

Percent Daily Values (%DV) are based on a 2,000 Calorie diet.
Ingredients
Water, Sugar, Corn Maltodextrin, Milk Protein Concentrate, Soy Oil, Soy Protein Isolate, Short-Chain Fructooligosaccharides, Cocoa Powder (Processed with Alkali), Canola Oil. Less than 0.5% of the Following: Corn Oil, Magnesium Phosphate, Potassium Citrate, Cellulose Gel, Natural & Artificial Flavor, Potassium Chloride, Sodium Citrate, Calcium Phosphate, Calcium Carbonate, Salt, Choline Chloride, Ascorbic Acid, Cellulose Gum, Monoglycerides, Soy Lecithin, Carrageenan, Potassium Hydroxide, Ferric Orthophosphate, dl-Alpha-Tocopheryl Acetate, Zinc Sulfate, Niacinamide, Manganese Sulfate, Calcium Pantothenate, Cupric Sulfate, Vitamin A Palmitate, Thiamine Chloride Hydrochloride, Pyridoxine Hydrochloride, Riboflavin, Folic Acid, Chromium Chloride, Biotin, Sodium Molybdate, Sodium Selenate, Potassium Iodide, Cyanocobalamin, Phylloquinone, and Vitamin D3.
Contains milk and soy ingredients.