In keeping pace with the budgetary demands of health care today, we focus on providing your staff with the tools they need, the brands they trust, and the quality they demand for the absolute lowest cost possible.
American Health Care Services, Inc. offers competitive pricing through outstanding purchasing power and by honoring group purchasing contracts. While others focus solely on pricing. American Health Care Services, Inc. recognizes that not only our pricing, but also our SERVICES & SUPPORT will retain you as long term customers.
Our competitors cannot offer the personalized services and support that we have been providing for our mursing communities and home care customers throughout the Delaware Valley for over 20 years.
Glucerna

Shake, Vanilla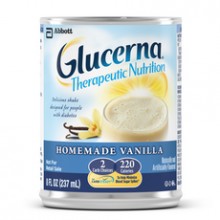 Glucerna® Therapeutic Nutrition Shake, Vanilla
HCPCS Code:  B4154
Sold by:
Qty per case:
Therapeutic Nutrition
GLUCERNA THERAPEUTIC NUTRITION SHAKE has CarbSteady™, a unique blend of carbohydrates, including slowly digestible carbohydrate clinically shown to help minimize blood glucose response.

1

GLUCERNA THERAPEUTIC NUTRITION SHAKE is a good choice for patients who are trying to manage their blood glucose levels and weight.
For patients with diabetes or hyperglycemia/abnormal glucose tolerance.
For use as an oral supplement in conjunction with a diabetes meal plan.
Use under medical supervision.
1
Fix BM, et al. Ann Nutr Metab 2001;45(suppl 1):277.
Features
Consistent with American Diabetes Association and American Heart Association recommendations favoring monounsaturated fats and 4% of calories from saturated fat to help manage lipid profiles.

2,3

3 g dietary fiber/8 fl oz.
1 g NutraFlora® scFOS®

*

/8 fl oz. scFOS are prebiotics that stimulate the growth of beneficial bacteria in the colon.
Meets or exceeds 25% of the DV for 24 essential vitamins and minerals in 8 fl oz.
50% of the DV for vitamins B6, B12, and folate.
100% of the DV for antioxidant vitamins C and E to help protect against cell damage.
Halal.
Kosher.
Suitable for lactose intolerance.
Gluten-free.
Precautions
For oral use only.
Not for sole-source nutrition.
Not for IV use.
Not for people with galactosemia.
*
NutraFlora® and scFOS® are not registered trademarks of Abbott Laboratories.
2
Eckel R, et al. Circulation. 2013.
3
Evert A, et al. Diabetes Care. 2014;37.
Preparation
Shake well. Serve cold.
Refrigerate after opening.
Nutrition
Serving Size: 8 fl oz(237 mL)


Amount Per Serving
% DV

*

% RDI

*

Characteristics

    Nutrient Density, Cal/mL:0.93
 
 
    Protein, % Cal:18
 
 
    Fat, % Cal:35
 
 
    Carbohydrate, % Cal:47
 
 
    Osmolality, mOsm/kg H2O:670
 
 
    Viscosity:Thin (Room Temperature and Chilled)
 
 
    Exchanges†:1 starch, 1/2 fat, 1 reduced fat milk
 
 
    Carb Choices:2
 
 

Nutrient Data

Calories:220
 
 
Calories from Fat:80
 
 
Fat, g:9
14 
 
    Saturated Fat, g:1
5 
 
        Trans Fat, g:0
 
 
Cholesterol, mg:<5
<2 
 
Sodium, mg:210
9 
 
Potassium, mg:370
11 
 
Carbohydrate, g:26
9 
 
    Dietary Fiber, g:3
12 
 
    Sugars, g:7
 
 
Protein, g:10
20 
 

Vitamins

Vitamin A:
35 
 
Vitamin C:
100 
 
Vitamin D:
25 
 
Vitamin E:
100 
 
Vitamin K:
25 
 
Thiamin:
25 
 
Riboflavin:
25 
 
Niacin:
25 
 
Vitamin B6:
50 
 
Folate:
50 
 
Vitamin B12:
50 
 
Biotin:
25 
 
Pantothenic Acid:
25 
 
Choline:
20 
 

Minerals

Calcium:
25 
 
Iron:
25 
 
Phosphorus:
25 
 
Iodine:
25 
 
Magnesium:
25 
 
Zinc:
25 
 
Selenium:
25 
 
Copper:
25 
 
Manganese:
50 
 
Chromium:
100 
 
Molybdenum:
50 
 
Chloride:
10 
 

*

Percent Daily Values (%DV) are based on a 2,000 Calorie diet.

†

Choose your foods. Food list for diabetes. The Academy of Nutrition and Dietetics and American Diabetes Association, 2014.
Ingredients
Water, Corn Maltodextrin, Milk Protein Concentrate, High Oleic Safflower Oil, Fructose, Glycerine, Soy Protein Isolate, Soy Fiber, Short-Chain Fructooligosaccharides. Less than 0.5% of the Following: Canola Oil, Natural & Artificial Flavor, Potassium Citrate, Magnesium Phosphate, Salt, Calcium Phosphate, Ascorbic Acid, Choline Chloride, Soy Lecithin, Monoglycerides, Potassium Chloride, Calcium Carbonate, Carrageenan, Potassium Hydroxide, dl-Alpha-Tocopheryl Acetate, Acesulfame Potassium, Ferrous Sulfate, Zinc Sulfate, Liquid Sucralose, Niacinamide, Manganese Sulfate, Calcium Pantothenate, Cupric Sulfate, Pyridoxine Hydrochloride, Thiamine Chloride Hydrochloride, Vitamin A Palmitate, Riboflavin, Chromium Chloride, Beta-Carotene, Folic Acid, Biotin, Sodium Molybdate, Potassium Iodide, Sodium Selenate, Phylloquinone, Cyanocobalamin, and Vitamin D3.
Contains milk and soy ingredients.