In keeping pace with the budgetary demands of health care today, we focus on providing your staff with the tools they need, the brands they trust, and the quality they demand for the absolute lowest cost possible.
American Health Care Services, Inc. offers competitive pricing through outstanding purchasing power and by honoring group purchasing contracts. While others focus solely on pricing. American Health Care Services, Inc. recognizes that not only our pricing, but also our SERVICES & SUPPORT will retain you as long term customers.
Our competitors cannot offer the personalized services and support that we have been providing for our mursing communities and home care customers throughout the Delaware Valley for over 20 years.
Pulmocare

RTH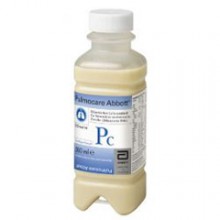 Pulmocare®
HCPCS Code:  B4154
Sold by:
Qty per case:
Therapeutic Nutrition for People With COPD
PULMOCARE is designed for people with chronic obstructive pulmonary disease (COPD), cystic fibrosis, or respiratory failure who may benefit from a high-calorie, modified carbohydrate and fat, enteral formula that may help reduce diet-induced carbon dioxide production.
For tube or oral feeding.
For supplemental or sole-source nutrition.
Use under medical supervision.
Features

Provides complete and balanced nutrition.
20% of fat as MCT to enhance fat absorption.
Elevated antioxidants vitamin C, vitamin E, and beta-carotene.
Meets or exceeds 100% of the RDI for 24 essential vitamins and minerals in 1420 Cal (947 mL).
Halal.
Kosher.
Gluten-free.
Suitable for lactose intolerance.
Low-residue.
Feeding sets are for single-patient use only. Use clean technique to avoid set and/or product contamination


Precautions
Not for IV use.
Not for people with galactosemia.
Instructions for Use: Ready-To-Hang Container
All liquid medical foods, regardless of type of administration system, require careful handling because they can support microbial growth. Follow these instructions for clean technique and proper setup to reduce the potential for microbial contamination. NOTE: Failure to follow the Instructions for Use increases the potential for microbial contamination and reduces hangtime.
Pump feeding is recommended; use an 8 Fr or larger tube. If gravity feeding use a 10 Fr or larger tube.
Administer product at room temperature.
THOROUGHLY wash hands with soap and water before handling container or feeding set.
Turn container upside down and SHAKE VIGOROUSLY, using a twisting motion for at least 10 seconds.
DO NOT touch any part of the container or feeding set that comes into contact with the formula.
When initiating feeding, follow physician's instructions. Adjust flow rate and volume according to patient's condition and tolerance.
Additional fluid requirements should be met by giving water between or after feedings or when flushing the tube.
Always follow directions for use provided with feeding set.

For Use with Enteral Feeding Set:
Remove the dust cover from the Abbott RTH Safety Screw Cap.
Remove the dust cover from the safety connector on the feeding set.
Insert the safety connector into the port on the Abbott RTH Safety Screw Cap, completely pierce foil.
Turn the safety connector clockwise until it is securely fastened.
Close clamp on set before inverting container.
Invert container and suspend, using the hanging ring on the bottom of the container.
Unless a shorter hang time is specified by the set manufacturer, hang product for up to 48 hours after initial connection when clean technique and only one new set are used. Otherwise hang for no more than 24 hours.
Nutrition
Serving Size: 1000 mL


Amount Per Serving
% DV
% RDI

*

Characteristics

    Nutrient Density, Cal/mL:1.5
 
 
    Protein, % Cal:16.7
 
 
    Carbohydrate, % Cal:28.2
 
 
    Fat, % Cal:55.1
 
 
    MCT:LCT:20:80
 
 
    Cal to Meet 100% RDIs:1420
 
 
    mL to Meet 100% RDIs:947
 
 
    Total Cal:g Nitrogen:150:1
 
 
    Nonprotein Cal:g Nitrogen:125:1
 
 
    Osmolality, mOsm/kg H2O:475
 
 
    Renal Solute Load, mOsm/L:512
 
 
    Viscosity:Thin (Room Temperature), Nectar-Like (Chilled)
 
 
    Minimum Tube Size for Gravity/Pump Feeding (Fr):10/8
 
 

Nutrient Data

Protein, g:62.6
 
 
Fat, g:93.3
 
 
Carbohydrate, g:105.7
 
 
L-Carnitine, mg:160
 
 
Taurine, mg:160
 
 
Water, g:785
 
 
Calories:1500
 
 

Vitamins

Vitamin A, IU: 11910†
 
240 
    Beta-Carotene, mg:5.0
 
 
Vitamin D, IU:425
 
105 
Vitamin E, IU:85
 
285 
Vitamin K, mcg:85
 
105 
Vitamin C, mg:320
 
535 
Folic Acid, mcg:845
 
210 
Thiamin (Vitamin B1), mg:3.2
 
215 
Riboflavin (Vitamin B2), mg:3.6
 
210 
Vitamin B6, mg:4.3
 
215 
Vitamin B12, mcg:13
 
215 
Niacin, mg:43
 
215 
Choline, mg:635
 
Not established 
Biotin, mcg:635
 
210 
Pantothenic Acid, mg:22
 
220 

Minerals

Sodium, mg:1310
 
Not established 
Sodium, mEq:57.0
 
 
Potassium, mg:1960
 
Not established 
Potassium, mEq:50.1
 
 
Chloride, mg:1690
 
50 
Chloride, mEq:47.7
 
 
Calcium, mg:1060
 
105 
Phosphorus, mg:1060
 
105 
Magnesium, mg:425
 
105 
Iodine, mcg:160
 
105 
Manganese, mg:5.3
 
265 
Copper, mg:2.2
 
110 
Zinc, mg:24
 
160 
Iron, mg:19
 
105 
Selenium, mcg:74
 
105 
Chromium, mcg:130
 
110 
Molybdenum, mcg:160
 
215 

*

RDI percentages for adults and children 4 or more years of age.

†

6625 IU of vitamin A activity supplied by 5.0 mg of beta-carotene.
Ingredients
Water, Sodium & Calcium Caseinates, Sugar (Sucrose), Canola Oil, Corn Maltodextrin, Medium-Chain Triglycerides, Corn Oil, High Oleic Safflower Oil, Magnesium Chloride, Calcium Phosphate, Soy Lecithin, Natural & Artificial Flavors, Sodium Citrate, Potassium Citrate, Potassium Phosphate, Ascorbic Acid, Choline Chloride, Carrageenan, Taurine, L-Carnitine, Salt (Sodium Chloride), Zinc Sulfate, d-Alpha-Tocopheryl Acetate, Ferrous Sulfate, Niacinamide, Calcium Pantothenate, Manganese Sulfate, Cupric Sulfate, Thiamine Chloride Hydrochloride, Pyridoxine Hydrochloride, Riboflavin, Beta-Carotene, Vitamin A Palmitate, Folic Acid, Biotin, Chromium Chloride, Sodium Molybdate, Potassium Iodide, Sodium Selenate, Phylloquinone, Cyanocobalamin, and Vitamin D3.
Contains milk and soy ingredients.